PIXEYE SD1 – PAL D1 RESOLUTION IP CAMERA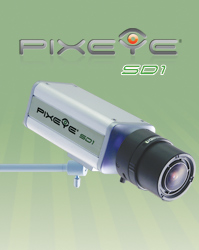 Ultra low noise sensor

Resolutions from 720x576 to 160x120

Progressive Scan, AWB, BLC

High Quality MJPEG compression

Web server and intuitive web interface

Power Over Ethernet (POE)

Compact size

Low power consumption

Low Light Mode
Pixeye SD1 is intended to use for professional cost effective video surveillance systems. Featuring ultra low noise sensor, advanced algorithms for real time video processing and precise lenses, this device can achieve superb quality in very wide lighting range. The camera has intuitive web interface which allows adjusting of the resolution, compression level, the number of frames per second and all aspects of the image quality.
The installer can optimize the network utilization, and storage requirements according to the application. Camera is powered via the Ethernet cable (POE) which makes installation easier and cost effective.
Technical specifications:
Sensor:

New generation ultra low noise CMOS sensor. PAL D1 resolution supported at 30 frames per second.

Sensor size:

1/3"
Progressive Scan

Dynamic range:

>71 dB

Light sensistivity:

1lx (with IR filter), 0,08lx (without IR filter)
Auto exposure (AE/AES)
Automatic gain control (AGC)
Automatic white balance (AWB)
Back light compensation (BLC) with def. zones.
Flicker noise filter – 50/60Hz

Lens: CS or C mount CCTV lens.
Camera configuration:
The device can be configured via password protected, intuitive web interface (remotely via the network).
Camera configuration options:
Network settings - IP address, network mask, gateway, DHCP.
Configuration of the video stream, resolution from 160x120 to 720x576, image aspect (4:3 or 16:9), compression level, sensor exposure (auto, manual, limited), image parameters and etc.

Remote firmware upgrade via the network.
Interface:
100Base-T Ethernet – RJ45.
Video codec:
High quality Motion JPEG.
Video performance:
MJPEG 30 fps @ PAL D1 (720x576);

MJPEG up to 90 fps @ CIF (352x288).
Power:
PoE 802.3af. using PoE Switch or PoE injector (36-60V DC).
Power consumption:
Low consumption - 1,5W
Standards:
EN55022 class B - Emission
EN55024 - Immunity

EN60950-1 - Safety
Temperature range:
From -20°C to +50°C
Size:
95 x 42 x 45mm (without lens and stand)
Weight:
300g (without lens and stand)
Datasheet (PDF): PIXEYE SD1.
Manual (PDF): Instruction Manual PIXEYE SD1.