Embedded Control Unit ECU537A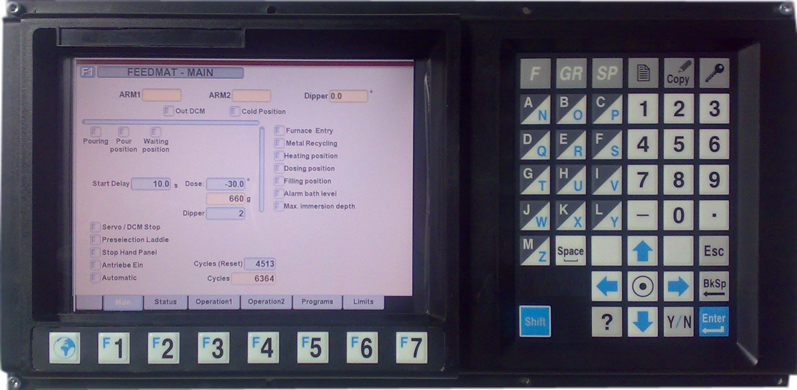 500MHz high performance Blackfin processor

64MB RAM / 16MB NOR Flash

Hardware Watchdog Timer

Realtime clock

10" LCD TFT color display

Industrial High Reability Keyboard

Wide Range Power Supply DC 6-36V

Power consumption: <5W
The embedded control unit is based on 500MHz Analog Devices Blackfin processor. The system provides fast performance even for complex GUI applications, various communication interfaces - RS232, RS485, CAN and PPI. The board is extremely reliable using entirely industrial components. The device can be used as a flexible programming unit, featuring graphic easy to use interface, rocket solid keyboard, and briliant true color TFT display. SD/MMC card slot allows user to store programs or application data and provides an easy option for software upgrade. The Ethernet connector and the TCP/IP stack allows unit to connect to an existing network infrastructure or Internet for remote diagnostic, data logging or web-based control (depending on software application).
Connectivity:
10/100Mbps Fast Ethernet port:

1x

CAN interface:

1x

RS232 (keyboard):

1x

RS232/RS485 (jumper selectable):

1x
SD/MMC memory card storage
Software:
uCLinux Operating System
CAN/CANOPEN support
RTOS support libraries available
FLTK graphic interface
Standard C/C++ development tools (GCC)
Power:
DC 24V industrial or (6-36V DC).
Power consumption:
5W
Standards compliance:
EN55022 class B - Emission
EN55024 - Immunity

EN60950-1 - Safety
Operating temperature range:
Industrial: -20°C to +50°C
Datasheet (PDF): ECU537A.pdf.